"I should try to give something to them whether it's a very small help or not"
Fuelled by the obligatory (and delicious) lunch of dal bhat – a form of Nepalese curry consisting of boiled rice and a lentil-based sauce, Renewable World South Asia's Tripti Prajapati chats to me in the warm early-February sunshine.
Having initially joined the organisation 17-months ago, as a Monitoring and Evaluation Officer, Tripti has since seen her role expanded to include project management responsibilities for the SolarMUS programme being delivered in Nepal. The solar powered water pumping project – SolarMUS – uses the energy generated through solar-panels in order to pump water to rural and unserved communities. This process saves women and girls hundreds of hours each year, which would otherwise be spent on water collection, and provides a sustainable source of water for drinking, sanitation, and/or the irrigation of crops.
Tripti is now responsible for project managing the delivery of the project in four districts in Nepal and currently has 13 project sites under her command. She looks forward to seeing these solar systems completed and pumping water. Tripti believes that this Programme will be successful "not just [when] the systems [are] installed, but [when] the beneficiaries, the people who are getting those benefits, are really satisfied."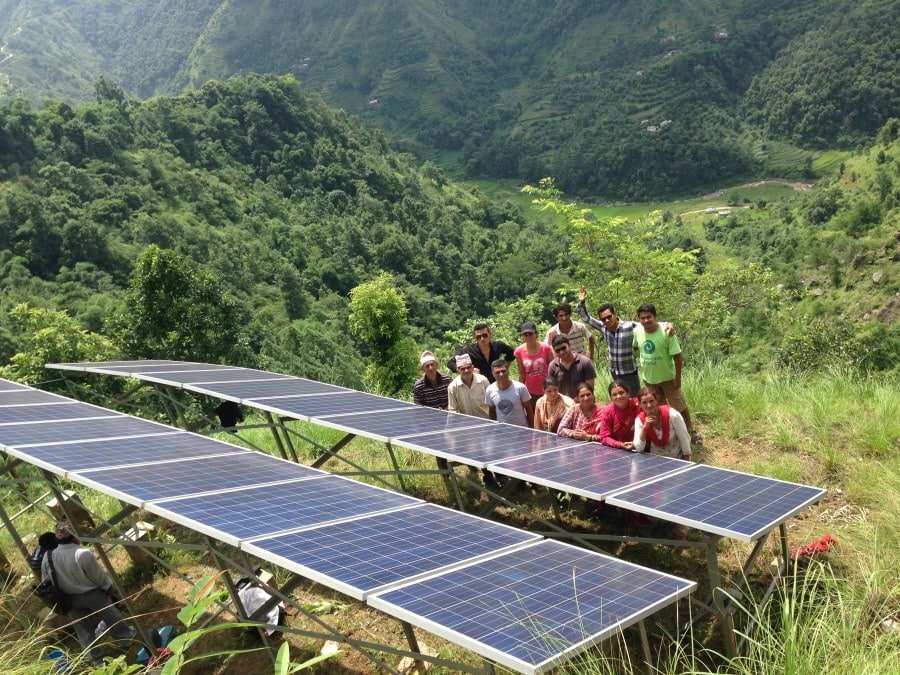 Like most of Nepal's population, the April 2015 earthquake made a significant and lasting impression on Tripti: "[it] did affect me internally because I had never experienced such a big natural disaster myself." It was Nepal's worst natural disaster for over 80-years, and claimed the lives of almost 9,000 people, causing $10 billion worth of damage – half the GDP of the country. Having just completed her Masters in Energy and Environment Management, Tripti felt compelled to help in whatever way she could, even at the cost of postponing her imminent wedding for six-months.
"After the massive earthquake, I joined for about three-months in… earthquake relief activities". By working with US-based organisation Global Communities, "I could see that… the vulnerable people, like who did not have access to even basic services, the level of impact was very high, so, I, a feeling came to me that… I should try to give something to them whether it's a very small help or not."
Despite this relief work not being related to the course she had just completed as a Masters, Tripti enjoyed it and the was thankful for the opportunity to help. "It was a really good experience working with Global Communities… it was not related to energy, but mostly direct relief, supplying direct relief materials to the affected families, mostly in shelter and [the] WASH sector."
When asked to describe herself in three words, Tripti breaks out into laughter – a common occurrence throughout our conversation – before answering "dedicated, energetic and enthusiastic". She later adds that she is also keen to learn and gain new skills, and it is this opportunity to learn that Tripti feels is one of the best experience she has had since joining Renewable World.
"The best thing for me I think is I have got the opportunity to learn a lot from my seniors. From technical, social, management, yeah every aspect, I think even though it's a very small organisation there are so many avenues to learn a lot and… build your capacity."
The beauty of Nepal, and its fragile ecosystem, has always provided inspiration for Tripti. "Since childhood I have always wanted to work in [the] energy and environment sector", she tells me. And though many of her country men and women recognise the situation Nepal finds itself in and share her concerns, Tripti is nevertheless left frustrated: "I think most of the people, even they know, but they don't practice it, talking about simple things, you know, like cleaning up, not throwing rubbish around."
Despite her obvious frustration, Tripti has faith that things will change, and is hopeful about the future: "a lot of good regulations are being enforced strictly these days so it is changing now". She continues: "I think the upcoming generation, the students are taught in the school itself so I mean, not just taught, but making them able to practice also, I think with time it will change."
As conversation moves on to the work of Renewable World and its impacts on beneficiaries, Tripti relates her two most memorable stories.
One that happened recently involves someone that Tripti says she is "very fond of". A lady at one of the SolarMUS sites who "is already a lead farmer and the striking thing is that she is a single mother and she is handling her family of five members… [despite not being] highly educated. She is a school dropout, an early school dropout, but her ambition is really good, she really wants to do this, continue agriculture in a modern and advanced way… She was saying that she would like to use different modern technologies [and] equipments… to practice those within her field." Hearing such ambition and desire in person was new to Tripti, and she described the experience as "really fascinating" and "striking".
The second of Tripti's stories is taken from a visit to a community in Dhading where Renewable World has another water pumping project (Hydram). Dhading was one of the worst affected districts following the April 2015 earthquake, and the community had been badly affected.
Through our Nepal Earthquake Emergency Relief (NEER) Project, Renewable World was able to deliver solar powered appliances for lighting and communication to over 300 families, restore access to water by repairing earthquake damage to Hydrams, and provide agricultural inputs (seeds and tools) for high value crops and appropriate training.
During Tripti's visit to the community, she was able to see first-hand the impact that NEER was having on people's lives. She said that she saw "this girl… living in a temporary shelter… not just the girl, her family itself, she had three siblings and… they were using the solar lamp that we (Renewable World) had distributed after the earthquake. So, they were using this solar lamp to study and benefit. I mean how helpful, it was just a simple, single lamp in a small room and the whole family [were using it]". On one side were the girl and her siblings using the light to read and study, and on the other side were family members cooking. Tripti was delighted to see "how a single small lamp could really give [so] many benefits at the same time."