Join the Grid today to (em)power communities tomorrow
"Join the Grid!"
By giving today, you can Join the Grid – us and our network of other donors – in our collective effort to (em)power families towards a more sustainable and brighter tomorrow. A play on the modern electrical grid that distributes power to our homes and businesses, we see our generous network of supporters as its own power grid.
The climate and energy crises are huge. They demand a global movement to solve them.
---
Make a One-Off or Monthly Donation
Thinking of donating? Why not double your impact by donating to our Big Give Christmas Challenge? Find out more here.
Renewable World's BBC Radio 4 Appeal
If your donation is in response to our BBC Radio 4 Appeal, then please donate using the button directly below.
Our promise to you as a donor
Renewable World's supporters make our vital work with remote and underserved communities possible. We could not do it without you.
Every donation, no matter how big or small, really does make a difference. Without your help, we would not be able to (em)power communities forward and create brighter futures in Nepal and Kenya.
We will spend your donation well…
For every £1 you donate:
73p will be spent on our programme: developing and deploying effective ways of bringing off-grid renewable energy solutions to the most remote and underserved communities, empowering them to achieve sustainable and resilient lives.
27p will be spent on fundraising: investment in fundraising generates more donations, which in turn ensures that your donation is still (em)powering lives tomorrow*.
*We expect to turn every £1 we invest in fundraising into almost £4 to put back into our work, so that 27p becomes £1.03.
These figures are based on our accounts from the financial year 2018/19.
We are here for the long haul…
We'll deliver lasting solutions, not short-term fixes. That means we won't necessarily choose the cheapest option and we'll always invest time in making the right decisions with, not for, a community.
We aim to give value for money in everything we do – for the long haul.
We won't give up until we're out of business. We have one vision and we'll stick to it until access to clean, reliable and affordable energy is a normal part of everyday life for everyone, everywhere.
Commitment to integrity in our fundraising…
We are registered with the Fundraising Regulator and adhere to their Code of Fundraising Practice.

We will respect and value you. We will always take care of the information we know about you, and treat both you and it with respect. We will never share or sell your details to third parties for marketing or fundraising. You can read exactly how we treat information about you in our Privacy Policy.
We'll choose the organisations we work with carefully to make sure their standards are as high as our own.
We regularly evaluate the effectiveness of our fundraising to make sure we're getting a good return for your investment.
Communications
We will (if we have your permission to do so) make sure you can see how your gift is helping increase access to clean, affordable and sustainable energy by sharing stories from the communities where we work.
Wherever possible, we will communicate with you in the ways that you prefer, adapting them to suit your needs. You can set or change your preferences at any time, and if you don't want us to contact you, we won't. To set or change your communication preferences call +44 (0)1273 076 050, or email getintouch@renewable-world.org.
Vulnerable supporters
It's important that we understand and protect people in vulnerable circumstances, including those who might want to support us.
View our Vulnerable Supporter Policy
Meet Joshua and Irene
The couple has four kids and manages the neighborhood convenience store. Previously, the store sold basics including flour, bread, sugar, matches, and kerosene.
When power came to their village via a community-managed solar microgrid, they decided to expand. The old convenience store grew to include a small cafe. Further, the electricity allowed them to expand their grocery offerings.
Irene now wakes up at 5am to start preparing breakfast for the local fishermen. The cafe is open until 10pm and has led to increased income opportunities.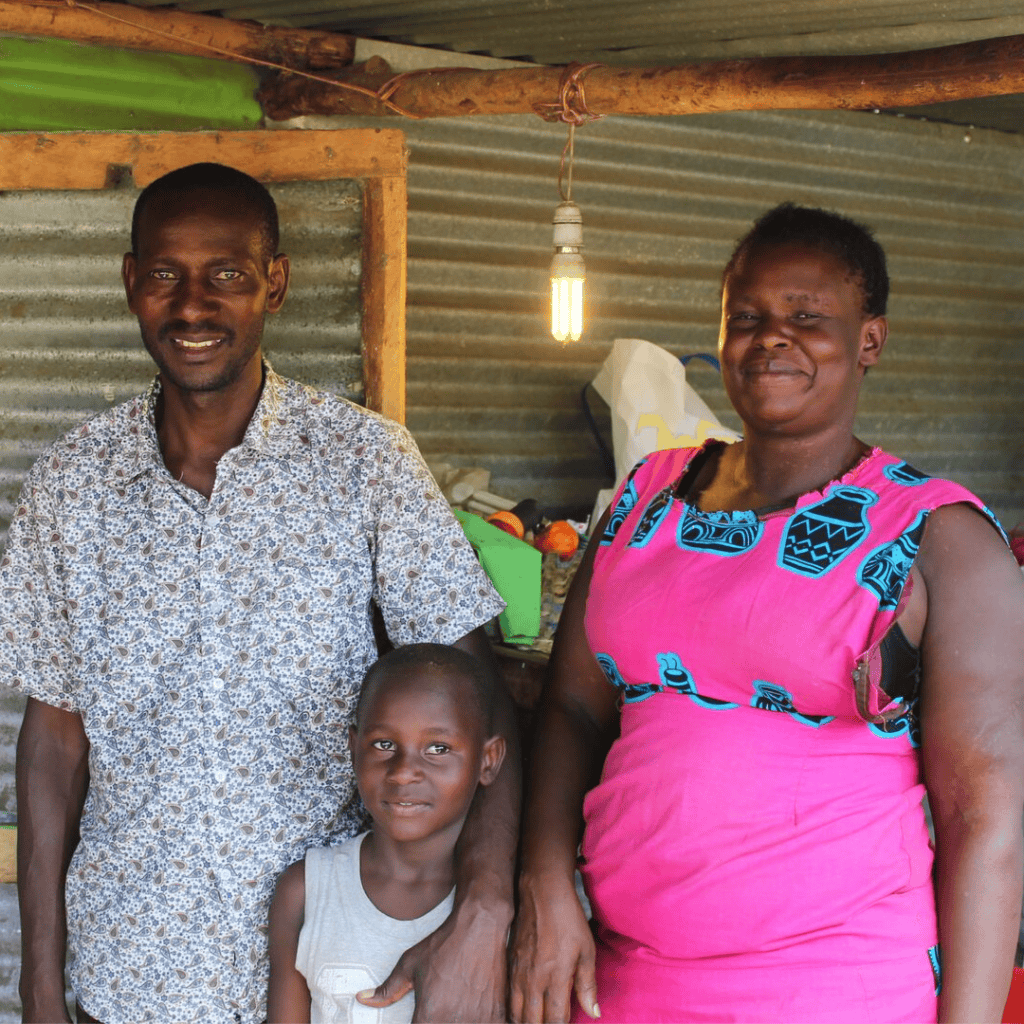 Joshua continues to make an income from fishing while the extended business hours of the store have meant more time helping Irene with the family business.
The couple is excited for the future and the life they will provide for their kids.
Irene shared, "through the income we are getting now, we can pay the fees and are able to transfer our eldest daughter to a better school."
Together, we can continue to empower families like Joshua and Irene through renewable energy.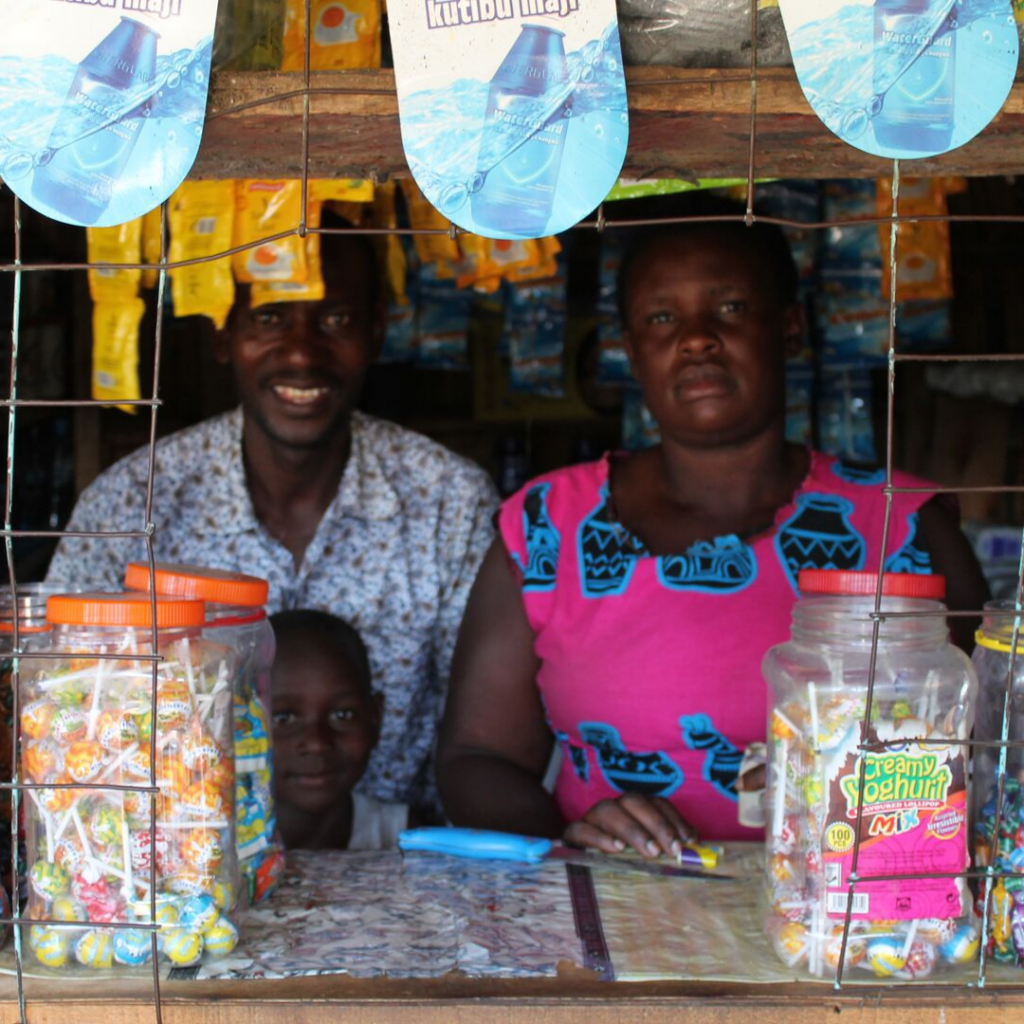 GET IN TOUCH
getintouch@renewable-world.org
+ 44 (0)1273 076 050
Renewable World
1st & 2nd Floor Offices
161 Edward Street
Brighton
BN2 0JB