Celebrating World Water Day, 22 March 2021
Water is the essence of life, and many of us take access to water for granted. We turn on a tap, flush a toilet and run a bath as everyday practices. But, across the world, lack of access to water turns these simple tasks into an endless struggle. With new challenges facing communities across the world under the COVID-19 pandemic, the need for water to regularly wash hands has never been greater.
Renewable World works in water poor communities across the mid-hills of Nepal, where hilltop villages, schools and health centres face a daily challenge of accessing enough water to meet their needs. With water sources located far below their settlements, women and children shoulder the brunt of the work involved in fetching water.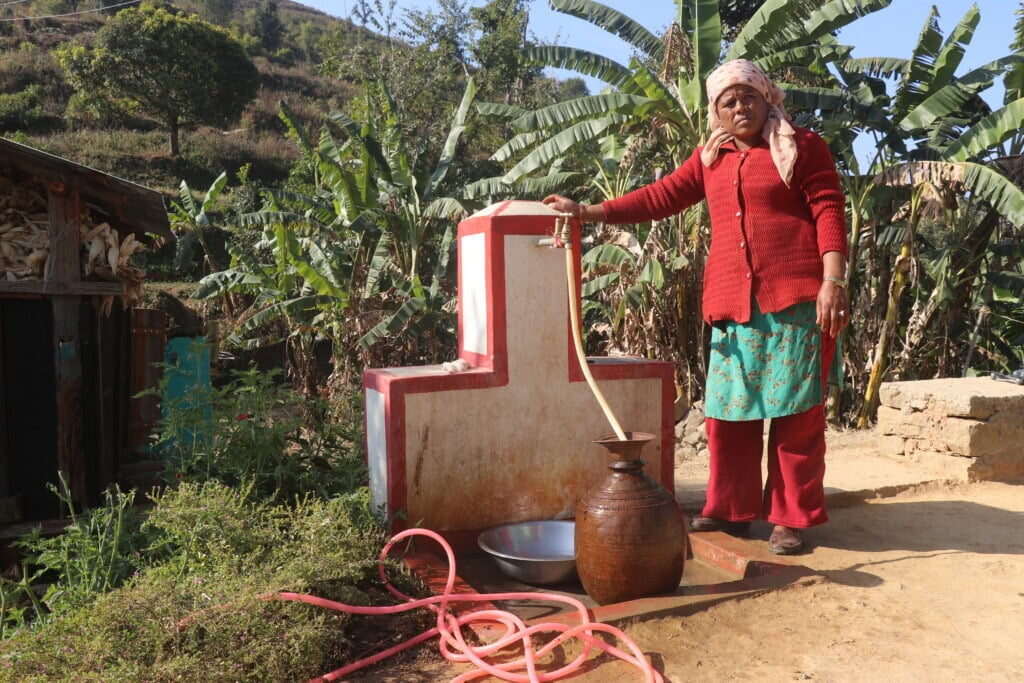 ---
Layati Village, Achham
Little water available at 4,000 feet
In Far West Nepal, Layati village lies 6.5 km from the main road, and sits on a hilltop at an altitude of approximately 4000 ft. The community of 85 households are from the marginalized Dalit community and are faced with high levels of water scarcity for most of the year. Their nearest water source is 1.5 km away, a 30-minute walk down a rocky path, which becomes extremely slippery during the rainy season, putting women and children who traditionally fetch water at risk of falling. The local government has constructed a water reservoir at the source and community members fetch water direct from the reservoir. However, they still must carry the water back up the hill to their homes.
The solution: a solar powered water pump
Thankfully, there is a potential solution to this problem. Renewable World is conducting a feasibility study to see if we can install a solar powered water pump (SolarMUS) to lift water directly to every household's doorstep in Layati, which they will be able to use for their household needs, livestock and kitchen gardening.  We have already installed 30 such pumps to date and have initiated projects to install a further 25 systems over the next three years. 
All of our water lifts are installed in collaboration with the community, to ensure that they feel full ownership of the renewable energy technology and infrastructure. Below you can see community members digging a trench and laying a distribution pipeline network for Jabden Bhatktadi SolarMUS, which we recently installed in neighbouring Surkhet district.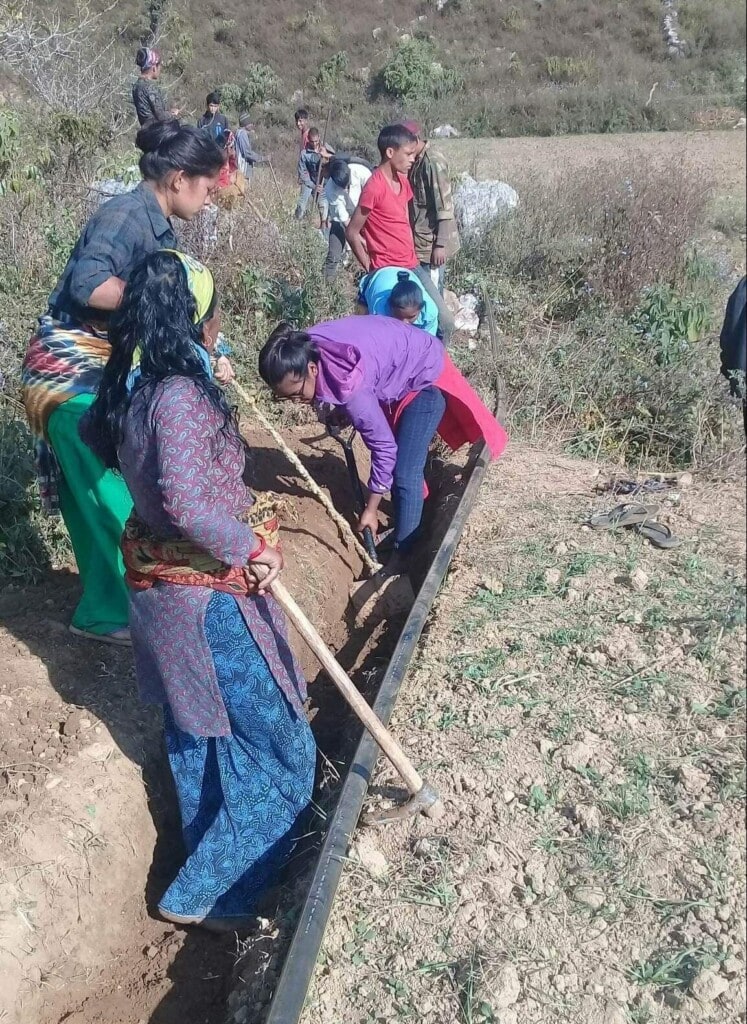 Once the work is completed, in partnership with the local government and local contractors, Renewable World's experienced technical team carry out technical audits to confirm that the system has been installed correctly and is functioning as expected, before officially handing over the system to the community. Below, is Baburam Paudel, our Global Technical Manager, conducting a technical audit at Dhanigrad SolarMUS, which we installed in 2020.
---
Kavre Pokhari School
A lack of water regularly stops girls from going to school
Kavre Pokhari School (the white building in the centre of the hilltop in the image below) has provided an education to thousands of secondary school students since it was established more than 50 years ago. The community around the school used to have plenty of access to water. For decades a distribution system has carried water downhill from a water source in the nearby hills to community taps, supplemented by artificial ponds (pokharis) that were built in multiple locations around the community, and which provided enough water for families to wash their clothes, bathe and water their livestock.
The water system was destroyed about a decade ago by badly managed development. New roads that were designed to connect the village to the main road were built without thought of the water channels they cut across leaving the community and the local school without water.
The pokharis (such as the one below) started to dry up, and the community and school became completely dependent on a small number of taps connected to the water system, which barley provide enough water for drinking, let alone bathing, watering a kitchen garden or keeping livestock. Gradually families sold their livestock, stopped trying to grow vegetables on their land. They now walk for up to three hours to wash in the river at the bottom of the hill.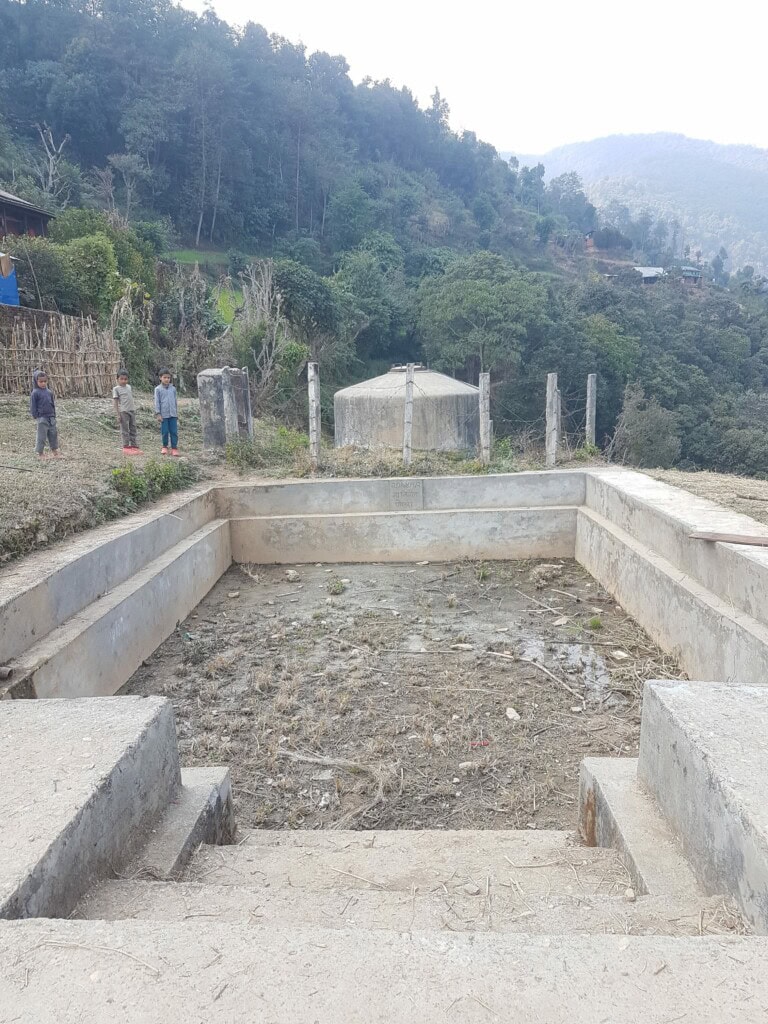 There is no longer enough water to serve the school. Toilets have fallen into disrepair and wash basins are no longer connected to the water supply. The impact on girls in particular has been profound. When the girls are menstruating, they simply can't come to school, solely due to lack of water.
When I asked this group of girls (in the photo below) from classes 8, 9 and 10 whether any of them regularly missed school when menstruating, every single girl put their hand up. It was a sobering moment. When girls regularly miss school, they fall behind in their studies, and are more likely to drop out altogether.
The solution: a solar powered water pump, a solar powered water filter and WASH infrastructure
Under our recently launched Water in Schools programme, Renewable World has ambitious plans to radically improve the situation, not just in Kavre Pokhari, but in nine additional schools in the area. In collaboration with the highly motivated school management team and the local government, we propose to install a solar powered water pump to supply the school and surrounding community. We will also provide and/or fix gender and disability friendly toilets, water tanks, taps, and a menstrual pad disposal system. We also plan to pilot a solar powered water filter in at least one of the schools.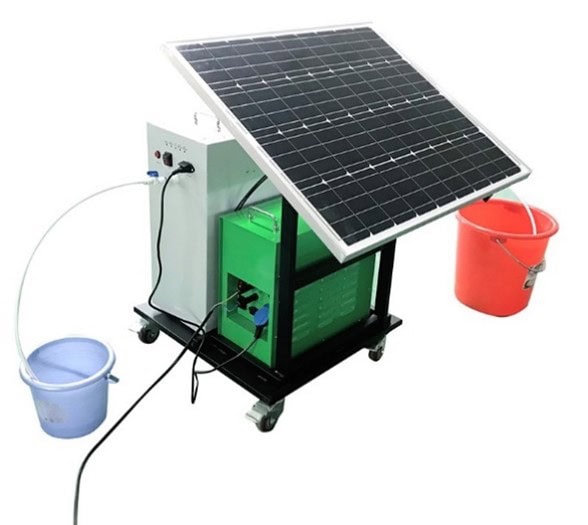 ---
Water conservation
A Renewable World priority
While lifting water to hilltop communities is essential, this only tells half the story. Renewable World is collaborating with our partner, Nepal Water Conservation Foundation (NWCF) to help ensure the sustainability of these systems, to build understanding among communities of how to conserve water more generally, and to ensure that future development does not interrupt the flow of water.
NWCF are supporting many of the communities we are working in to contribute to the development of water protection and conservation plans, such as the one shown below, which was developed for Aam Kholi Gotheri in Surkhet.
The results of our first study were rolled out by Renewable World and NWCF in March 2021 to an audience of local governments, who will be responsible for taking the plans forward.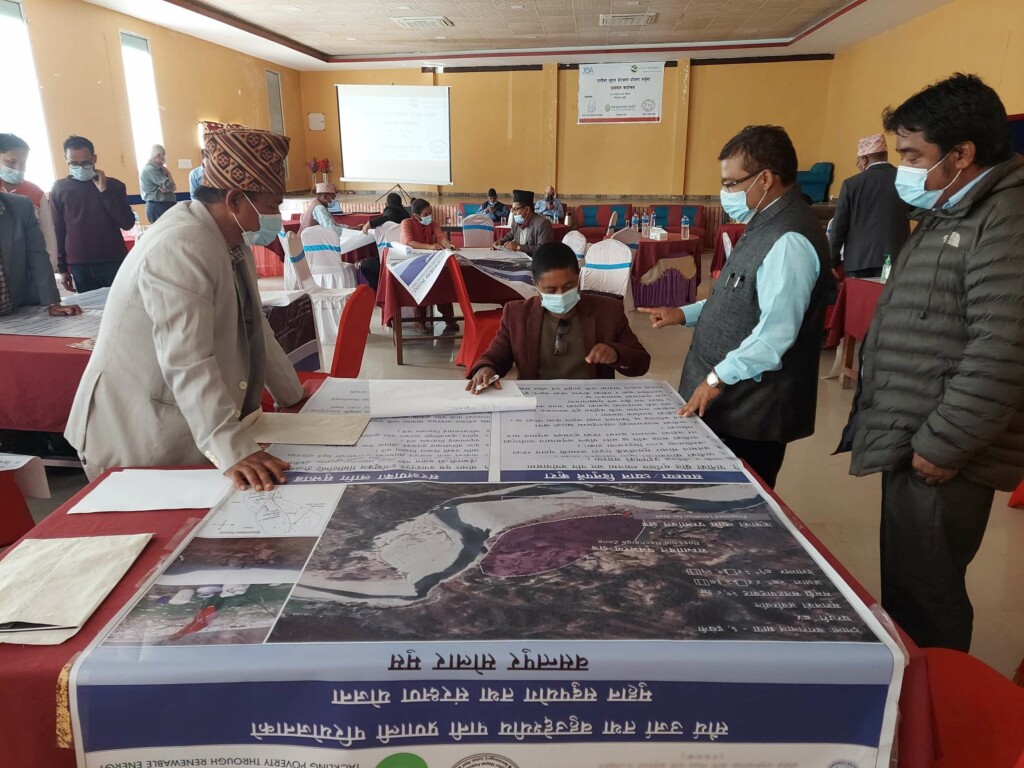 ---
The importance of water and sanitation
To prevent the spread of COVID-19
In addition to our main focus areas, Renewable World recognizes the need for increased access to water, and improved understanding of hygiene and sanitation practices to prevent the spread of COVID-19.  To meet this need, in health centres across Surkhet, targeting those where we have already installed solar power and provided energy enabled equipment, we have also provided tippy stands to help health centres offer their services safely. To date we have installed 14 tippy stands. A tippy tap works by using the foot to tap a lever to tip water out from a container. It means hands can be washed without touching the stand, therefore stopping the spread of dirt and bacteria.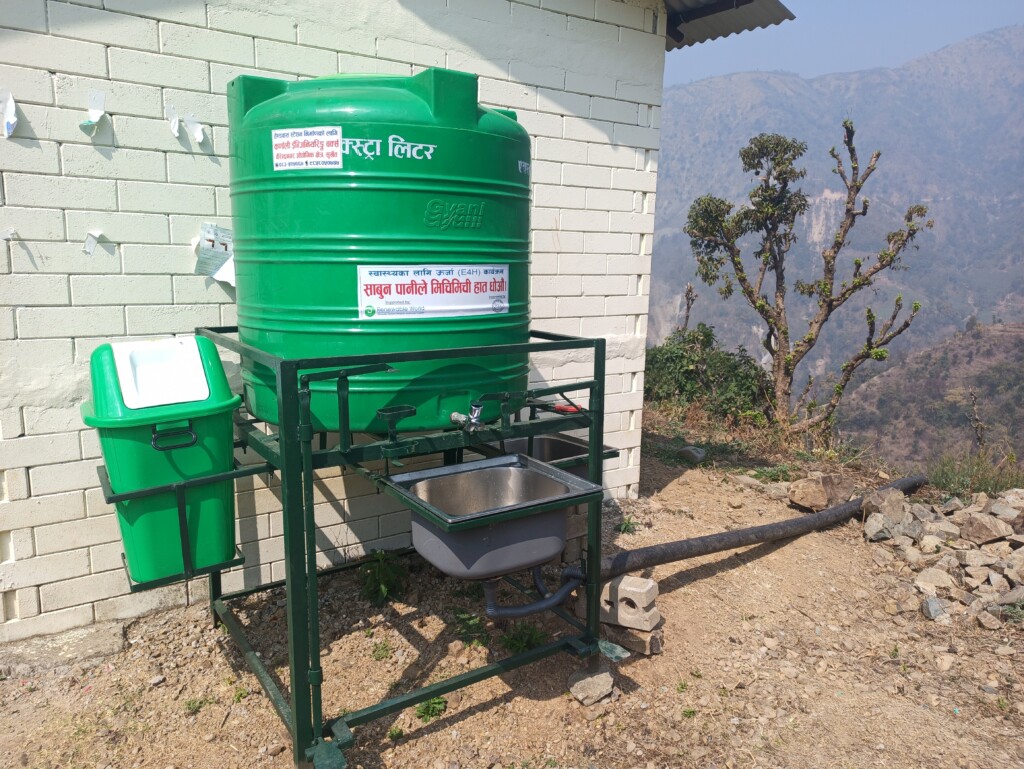 We recently installed a tippy stand at the health centre in Pipaltakura community in Surkhet. This remote health centre provides services to more than 450 people (90 households). The tippy stand will ensure that staff and patients can now wash their hands safely before entering the health post.
Finally, to embed hygienic practices, after we have installed new water lifting technology and sanitation infrastructure, we train communities on how to use water safely. This includes hand washing practices, and simple approaches to safe water use such as boiling or filtering water before drinking. The photo below shows women from Sanneghari community being shown how to wash their hands properly, to help combat the spread of diseases, including COVID-19.