Distributing COVID-19 relief packages in Nepal
A nation in lockdown
The nationwide lockdown enforced by the Government of Nepal in response to the global COVID-19 pandemic came into force on 23 March 2020 and lasted until 22 July 2020. The toll this has taken on the country's economy, which relies heavily on remittances, imports fueled by remittances, informal labour and tourism, has been significant. While the numbers of those directly affected by the virus have been contained, the wider impact of the COVID-19 pandemic has affected the whole country and especially those families who were completely dependent on remittances.
One of the regions highly affected by the virus has been Karnali province, with a total of 1,827 people infected as of 21 July 2020. Karnali province is also one of the poorest and least developed regions of Nepal, but also sees some of the high levels of migration from communities as families search for work. The drying up of remittances has therefore left many communities in a dire situation. With most of our projects implemented in Surkhet District, which is where the capital of Karnali province lies, Renewable World responded to the local government's call for partners working in the area to support local communities through a coordinated emergency response effort.
---
Communities on the brink of starvation
By June 2020, with lockdown partially lifting in parts of the country, the Renewable World team slowly started work again in Surkhet district. Two extremely poor communities whom we support through our SolarMUS III project, Basantapur and Jabden Bhaktadi, were identified as having been highly affected by COVID-19 with nearly every family completely dependent on remittances and having no alternative source of income. Both the communities are situated at a high altitude, due to which agriculture is highly challenging, and both communities were facing severe food insecurity. While we were in Basantapur community having a conversation with community members, they told us that they were now eating thakal (a type of grass) and gittha (a type of wild fruit) in order to satisfy their hunger. We were very shocked and saddened to hear this. After hearing and seeing the situation, we wanted to do something for these communities in addition to our standard work and committed to support the local government COVID-19 response programme.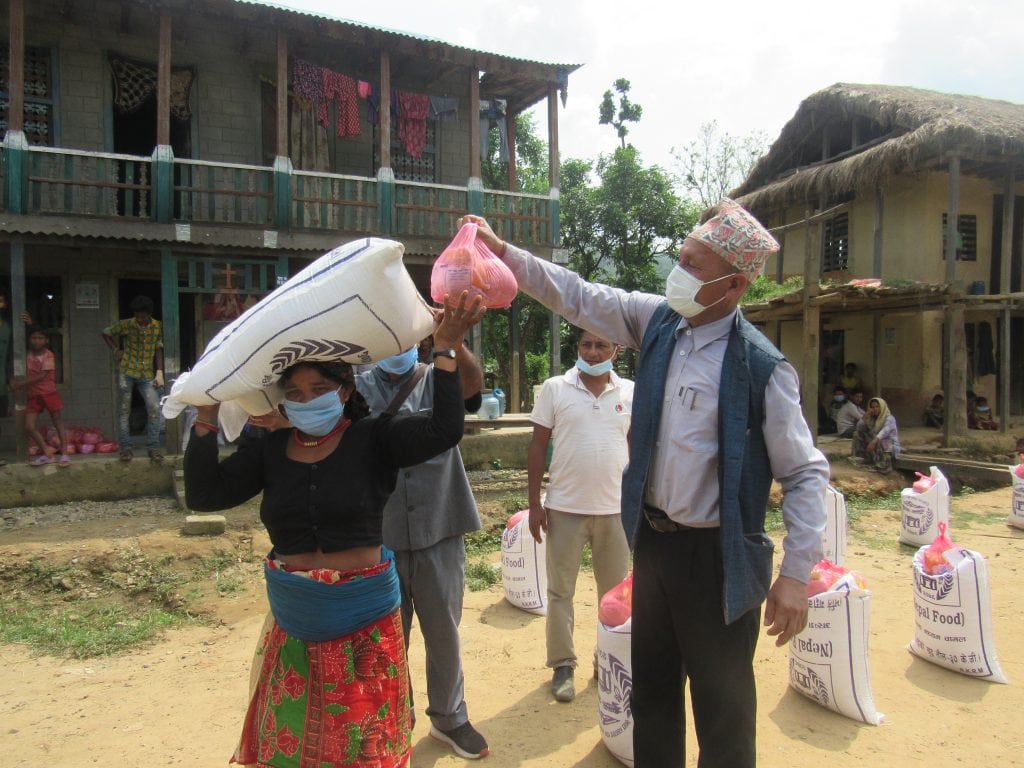 ---
Distributing basic rations
There are total of 85 households in Basantapur and total of 82 households in Jabden Bhaktadi community. Coordinating with the local government, a response package consisting of rice, oil, lentils, salt, hand-washing soap and clothes-washing soap was distributed to all 167 households in both communities.
For the distribution of the relief packages, we worked with our local partner, Sundar Nepal Sanastha (Beautiful Nepal Association) and the local government to conduct a relief distribution program over two days. While we were in the communities, we were interested to see that most of those coming to collect their household relief packages were women. This highlighted not only the concern and anxiety faced by women in regard to their household food security, but also highlighted the level of male migration from the communities.
As we distributed the response package, we could see the happiness of receiving food in their eyes. We could also hear small children giggle and talk to their friends about getting to eat proper food again after so long.
---
Prioritizing water and hygiene facilities
The distribution of the response package was based on meeting basic food security needs, however while providing relief we also noted hygiene needs in the communities. In particular, while attending the local health posts for treatment, even though social distancing was maintained, hand-washing was not being carried out as the facilities were not available. This was something that caught our attention as particularly critical to help prevent the spread of the COVID-19 virus. So, keeping this in mind and looking at how people constantly visited the health posts, we thought of installing hand-washing stations in five different health posts.
The hand-washing station is designed to be operated by foot, reducing hand contact with the tap. Two pedals, on either side of the system, help to tip out the required amount of liquid soap and water needed to efficiently wash hands. Five hand-washing stations were installed in the following health posts: Chepang Health Post, Kunathari Health Post, Babiyachaur Heath Post, Bidyapur Health Post and Bijaura Health Post. The health posts are in three different Rural Municipalities of Surkhet, namely Baratal, Panchapuri and Chukuney. These health posts were selected as they each serve a large community and did not have adequate hand-washing facilities. By installing these foot-operated hand-washing stations, we believe it may help to reduce the risk of transmitting the virus, as well as promoting good hand-washing practices.
When we visited the health posts a few days after the installation of the hand-washing stations, we were very happy to see people using them before entering the health post. The health post in charge of each of the five health posts was very happy to receive these hand-washing stations from us. One of the health post in charge said, "This hand-washing station is very easy to use and this may help reduce not only COVID-19 but other disease transmission as well."
We are glad to have been able to help these communities during this critical time through the distribution of relief packages and hand-washing stations.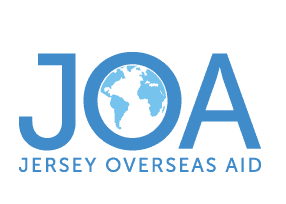 We would like to thank our donor Jersey Overseas Aid for their contribution towards this work.