Powering Communities Throughout the Pandemic
During the Coronavirus pandemic in Kenya, access to reliable services and infrastructure have been more essential than ever. Over the past 18 months, despite many lockdowns and barriers to completion, Renewable World's Kenyan team have been expanding energy access within two communities in the Lake Victoria Region. As part of our Optimisation Project, 47 new connections have been installed (bringing access to energy to a total of 108 households and businesses in Sika and Ragwe communities). To ensure the best use of energy, these communities have been supported by Renewable World staff and local partners in technical Microgrid management, health and safety, entrepreneurship, financial literacy, governance and leadership.
---
Expanding Businesses and Local Services
By providing energy access to individuals, households and buildings, supported by the entrepreneurship training, new businesses have been able to establish themselves and grow. This has provided hotels and restaurants for the transient fishermen who work in the local area, local shops for groceries and essential items, hairdressers and barbers, and new entrepreneurs including battery charging stations for lights to support the local fishermen. These new businesses accessing power are helping the local economy and ensuring locally available services during lockdowns when travel can be discouraged or restricted.
---
Increasing Power Access for the Long Term
As part of the Optimisation project, Renewable World received a generous donation of three Lithium-Ion batteries from RELiON. Thanks to this donation, the communities could replace 40 lead acid batteries with these three high-spec batteries (with over 35kW of power). The new system, with the donated batteries, will provide eight years of sustainability to the Microgrids, enabling communities to save money to connect more households and manage the Microgrid maintenance for years to come.
With the technical and health and safety training received during the project implementation, and because of the expanded battery and system capacity, within the first month alone of technical completion one of the communities identified and connected five additional households to the Microgrid. The additional connections will not only help to generate income from the Microgrid for essential maintenance, but will also mean even more community members are connected directly to electricity.
---
Leaving no Trace: Dealing with E-Waste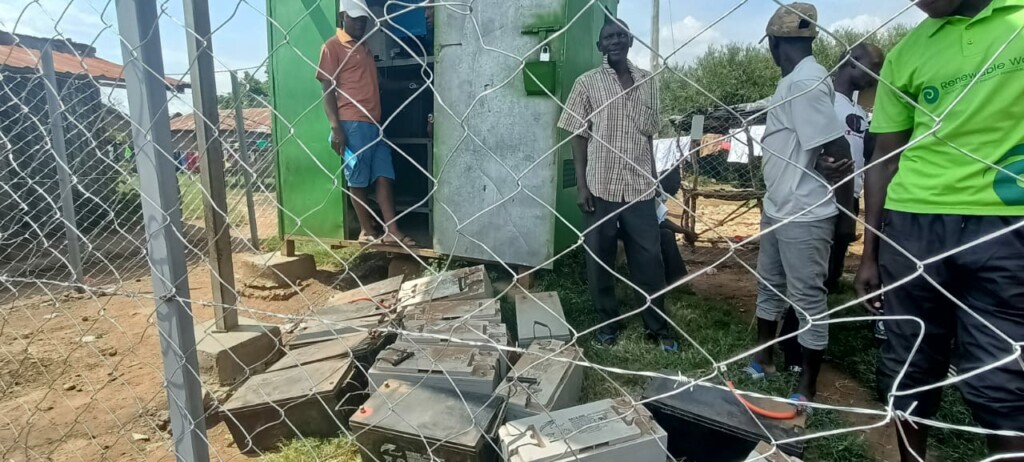 A focus of our work is to ensure equipment brought into the communities doesn't impact the local environment. To further support sustainability and prevent e-pollution, the Ragwe and Sika Microgrid management committees have been sensitised on how to deal with e-waste. By linking both communities with local recycling firms who will pay for old batteries, the communities were able to make money from the old battery sales, and generate an income from the Microgrid to support operations and maintenance. This also ensured the safe and secure disposal of the lead acid batteries, which left unmanaged could significantly pollute Lake Victoria and the community.
---
Stories of Real Life Impact: Dismas – Accessing Light, Security and Income in his Retirement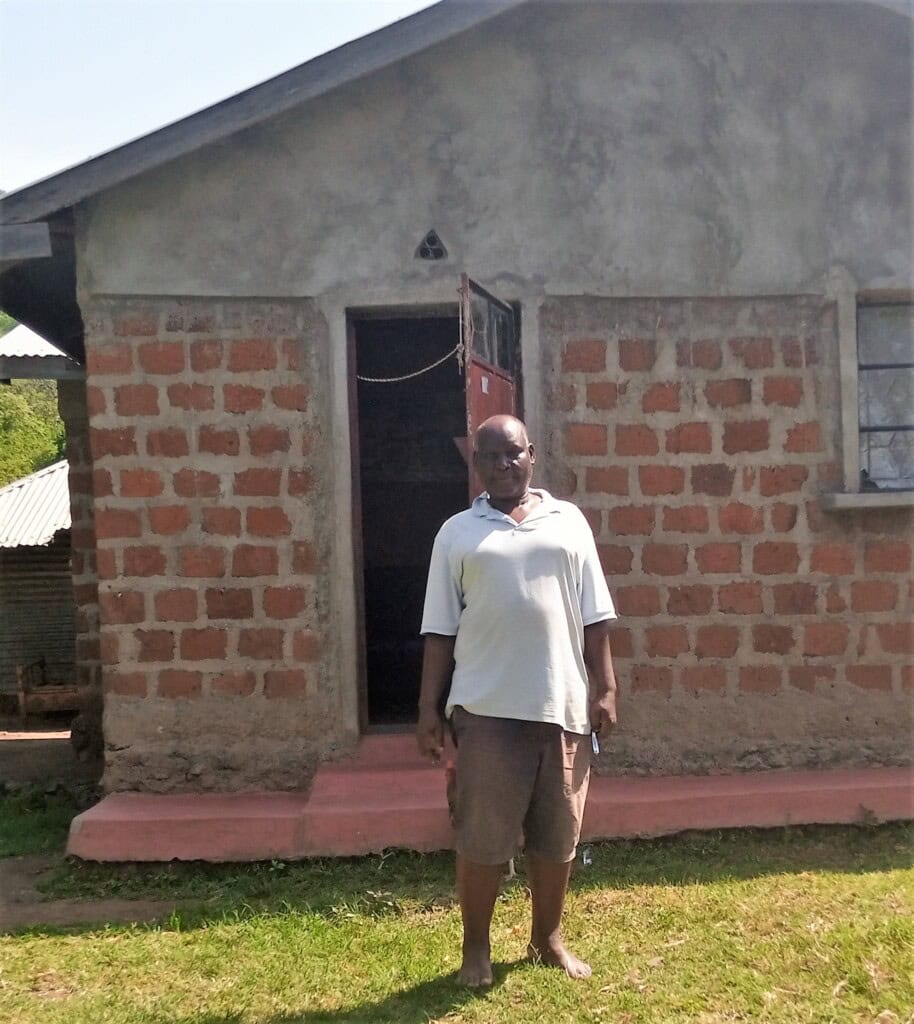 Dismas, a father of 7, was born and brought up in the off-grid community of Ragwe in the mid 1950s. By the late 1980s, he had already left the village to look for work in Nairobi.
"You will have to understand that during those days and till 2018, Ragwe was your very typical rural community, where life started at 6:00 AM and we went to sleep by 6:30 PM", says Dismas. "As I look back today, I think the lack of electricity in Ragwe created a situation where the youth couldn't prosper from within unless they were interested in the fishing business, which was never my calling", Dismas adds.
Though Dismas would often come back to visit his parents, he spent the next 32 years of his life working for the Kenya national Government in major cities.
"Working in these big towns sometimes made me forget the difficulties my people faced back in Ragwe. Our mothers had to start preparing supper by 5:30 PM, to be ready by 6:30 PM at the latest. People would go to sleep shortly thereafter due to the total darkness. Children studying at night was a luxury that most parents in Ragwe couldn't afford. A lack of electricity also a created a breeding ground for criminal activities for many jobless youth at night, forcing people to fasten their doors by 6:30 PM and go to sleep. There was always fear when darkness struck", he adds.
In 2014 Dismas decided to relocate back to Ragwe in his retirement, making the difficult decision to leave his children in the city with relatives so they could access electricity for a better education.
"Readjusting wasn't easy. For instance, I'd gotten used to buying whatever I wanted at the time of need. Back in Ragwe, I had to make my purchases between 7:00 AM and 5:00 PM at the latest, and these were basic purchases, like for a match-box, sugar or salt. If you wanted items that required refrigeration, you had to go to Sindo town, which is about 12 KM from Ragwe", Dismas recalls.
Dismas used his retirement money to invest in his children's education and build a home and two rental units in Ragwe. But without access to electricity his rental units remained empty.
"When power came, everyone wanted to see the first electricity bulb to shine in Ragwe; and when it happened, a section of the community burst into traditional war songs as a sign of victory", Dismas says smiling.
Within the next six months following commissioning, the population in central Ragwe had increased almost two-fold.
"Almost everyone wanted to open a business. I opened a phone charging business and found a tenant for the other unit."
With a consistent power supply, Dismas was able to keep his business open after dark and now has a TV at home.
"Thanks to Renewable World, Ragwe is on a par with the rest of the world today. I can easily follow and stay up to date with both national and international news from here in Ragwe", Dismas says.
"If you've been following the national news lately, they have been talking of irregular and erratic power supply in Kisumu city and other neighbouring big towns due to heavy rainfalls. That doesn't happen here. Our supply is consistent and steady."
Access to electricity has greatly encouraged entrepreneurship and enabled new economic activities.
"There was nothing like a salon here in Ragwe. Today, we see a lot of them operating late into the night. We also have about three hotels employing youth, video showrooms and shops operating late into the night. Ragwe has become a small bright center with flourishing businesses. We are confident that this micro-grid will continue to provide new jobs, businesses and improved livelihoods in Ragwe", says Dismas.
"This micro-grid brought a big difference in our lives. It is one of the key reasons why one of my sons, Hesbon Nyakiamo decided to pursue Electrical and Electronics Engineering at Kisumu national polytechnic. He is in his second year and is very passionate about the power of electricity", says Dismas.