'Maybe Christmas,' he thought, 'doesn't come from a store. Maybe Christmas, perhaps… means a little bit more!'
The moment that the Grinch learns the true wonder of Christmas spirit is a festive classic. At everyone's favourite time of year, Dr Seuss' furry character reminds us to cherish the things that simply can't be bought in a store.
After the last-minute shopping trips, digging out the fairy lights and worrying if you bought enough after-dinner mints to go around, we relax in our safe, warm homes and sometimes forget the world outside of the one we're lucky to live in. We love being wrapped up in the holidays with loved ones around us. It can be easy not to think about what Christmas Day looks like for those who won't be celebrating the festivities the way we do.
It is important to remember that not everyone will be enjoying Christmas this year, in fact, 1.4 billion people will be living without power.
Many more than this will risk their lives to fetch firewood and pollute their homes with toxic fuels for lighting and to cook for their families. People across the world will suffer from malnutrition as they struggle to produce enough food to survive.
Now more than ever, those less fortunate than us need us to extend the good will we celebrate at Christmas. Good will to all, not just those around us.
Let your goodwill travel beyond your Christmas card send out this year. Help power people out of poverty by supporting the Renewable World Christmas e-card campaign. Our projects all around the world work to achieve our vision, of a world where everyone is given the chance to power themselves out of poverty.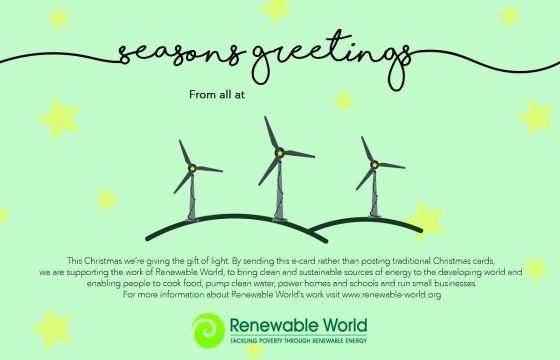 Supporting our Christmas e-card campaign means helping the world's most vulnerable people transform their lives, with safe, clean energy that also protects the environment.
Just £500 can give five families in Nicaragua access to solar power for a year, saving them from polluting their homes with lethal kerosene fumes.
Share your Christmas spirit with Renewable World's global community, and help make a difference this Christmas.  Find out more information here.