Join The 2.6 Challenge in support of Renewable World!
The COVID-19 pandemic has had a devastating effect on charities, with the cancellation of thousands of events and the loss of billions in fundraising income.
Renewable World is already trying to deal with the repercussions of delayed income (e.g. from events that have been postponed or cancelled) and a loss of income from supporters whose giving depends on a thriving economy. As a small charity that tackles poverty through renewable energy, these changes could have a big and potentially devastating impact, particularly on the communities that we help.
In response to this situation, the organisers of the biggest mass-participation sports events across the country have come together to create a new campaign -The 2.6 Challenge – to raise vital funds to help to save the UK's charities.
The 2.6 Challenge will launch on Sunday 26 April (what should have been the date of the 40th London Marathon).
---
What is The 2.6 Challenge?
We're asking you to take part in an activity of your choice based around the numbers 2.6 or 26 and fundraise or donate to support Renewable World via our JustGiving 2.6 Challenge campaign page.
There's no need to be a marathon runner to take part – this is a challenge for all ages and abilities. Your activity could be something as simple as walking, running or cycling 2.6 miles; doing 26 minutes of yoga; juggling for 26 minutes; or holding online workouts with 26 friends. The ideas and options are endless!
And don't worry if you're not able to get out of your house or flat for now. We're not looking for superheroes – we're looking for Home Heroes.
You could even think of a challenge that relates to Renewable World and our work. Here are a couple of examples:
The only requirement is that you must follow Government guidelines on exercise and social distancing (if you are not based in the UK, then please refer to government guidelines in your own country). Most people are taking part from Sunday 26 April but you can do your activity whenever is most convenient for you.
Whatever you can do, you can be part of it – the main thing is getting active, having fun and donating whatever you can to help support Renewable World.
---
How do I get involved?
There are just five simple steps to take:
1. Dream up your 2.6 challenge – if you need help there are lots of ideas here
2. Head to our JustGiving page to donate £26 (or whatever you can afford) or to set up a fundraising page
3. Ask all your friends and family to sponsor you and challenge them to do their own 2.6 Challenge
4. Complete your challenge
5. Share a photo or video of your challenge on social media with #TwoPointSixChallenge and #TeamRenewableWorld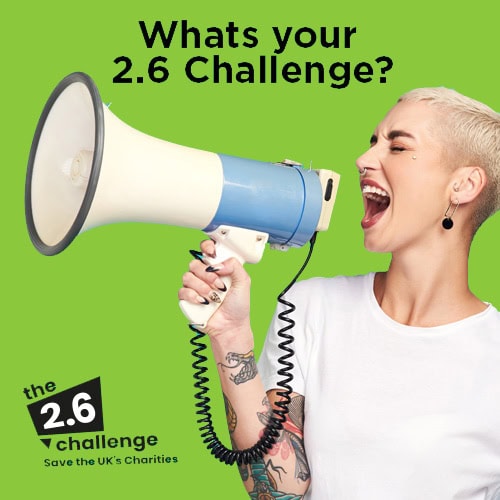 ---
Fundraising Resources
To make it easy for you to set up and promote your fundraiser, we have put together the following resources for you to use. Simply click on the links below to download the assets.
Our top tips to personalise your JustGiving page
A one-pager on the impact your fundraising and donations will have
A poster to promote your challenge
Other photos and images to promote your challenge
Photos that demonstrate the impact of our work
Photos that demonstrate the need behind our work
---
For further information on The 2.6 Challenge, including more ideas about what your activity could be, visit twopointsixchallenge.co.uk.
We hope you'll join the nation in The 2.6 Challenge to support Renewable World and help to save the UK's charities.