#SlouchOnYourCouch
Last Friday, we were excited to receive an email from Ben Sullins, a self-confessed "data geek" and Founder of Teslanomics YouTube channel. He started a tongue-in-cheek fundraising campaign after Tesla CEO Elon Musk said in a CBS interview he'd been sleeping on a terrible couch at his factory in Fremont, California. The couch was so uncomfortable that Musk admitted he sometimes just sleeps on the floor instead.
Within hours, the campaign had raised thousands of dollars and the story soon attracted the attention of news outlets such as CBS and NBC in the United States, The Telegraph and The Daily Mail in the UK, and Mashable and Buzzfeed online.
The campaign to buy Musk a new couch raised $7,614, and with Tesla accepting Sullins' offer and agreeing to offset the cost of the couch, it was decided that all the funds raised will instead be given to charity. We are delighted to announce that we were chosen out of a shortlist of three charities.
Ben told Renewable World: "What started as a joke will ultimately help people around the world access renewable energy. The internet is amazing and I'm filled with joy that people in need are going to benefit from this."
---
Slouch on your couch for Renewable World
To celebrate this amazing donation, we'd like to ask our supporters to #SlouchOnYourCouch for Renewable World.
From the comfort of your own home, you can support us and help tackle poverty through renewable energy. To join our campaign and support our work to bring clean energy to power-poor communities, simply SLOUCH, SHARE, and DONATE:
1. SLOUCH: #SlouchOnYourCouch for Renewable World
2. SHARE: Share a photo of you and your couch (the more people on your couch the merrier; cosy up with your friends, family, pets, even your favourite teddy bear!). Don't forget to include:
The hashtag #SlouchOnYourCouch
And the donation link: http://bit.ly/slouchcouch, or text donate instructions: text SOYC05 £5 to 70070
3. DONATE: Donate £5 to Renewable World, either online or by texting SOCY05 £5 to 70070
While you're at it, don't forget to nominate your friends to do the same!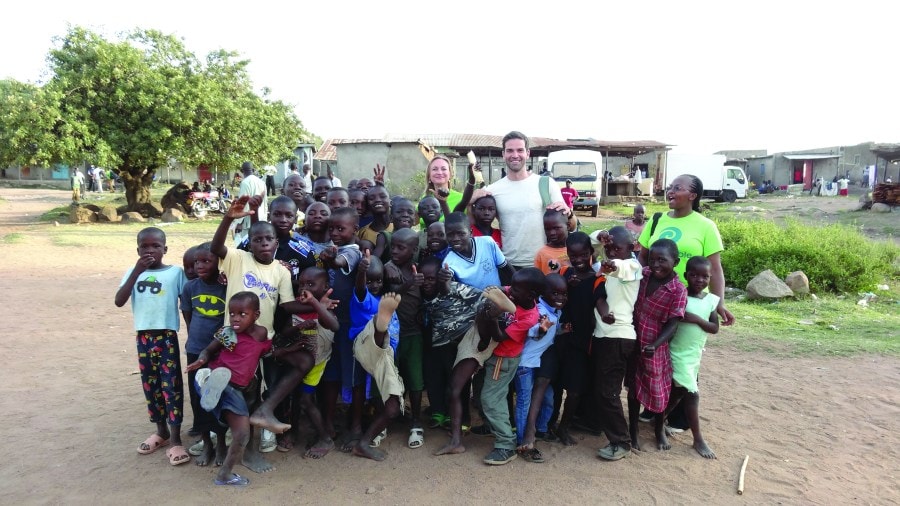 "As Renewable World Ambassador I am delighted to be slouching on my couch for Renewable World. I'm lucky to have a sofa, and a roof over my head. Not everyone does. Through this unique opportunity, I can help bring access to energy to people around the world who's life is a daily struggle. I've seen first-hand how lives are changed with access to energy. Please spread the word and get vital funds to where they are needed most!" – Gethin Jones
Thanks Teslanomics! We love bonkers ideas like these and we hope that you'll all join in and support us from the comfort of your own couches.
---
How slouching on your couch will help change lives
Your £5 donation could provide one family in Nepal with agricultural training and tools, helping them increase their income by growing cash crops.
If we hit our fundraising target of £5,500, that would double the donation that we have received from the 'Buy Elon Musk a Couch' campaign, doubling the impact that we can achieve.
With the £5,500 raised so far we could provide training on safe water use, hygiene and sanitation for seven communities in Nepal who have recently got access to water through a solar-powered water pumping system.
If we manage to double this donation, then with £11,000 we could give 30 families and future entrepreneurs in Kenya access to clean and sustainable solar energy for 25 years; bringing electric lighting and electricity into their homes, and opening up new business opportunities.