Seven days to double your donation through our Water for Life appeal
Many of us don't give water a second thought. With the twist of a tap, we have water on demand in our home. We shower, wash our clothes, quench our thirst, and clean the dishes.
But 1 in 10 people around the world aren't so lucky. They don't have access to clean water. Water is constantly on their mind and each day is a new struggle to collect enough water for their basic needs.
This situation is particularly acute in Nepal's rural hilltop villages. Droughts, accelerated by climate change and water access issues, are becoming more frequent. Many villages sit high above their nearest water source and face a daily challenge of fetching enough water to drink, wash, grow food and rear livestock.
Without water, traditional agriculture is failing. Men and young people migrate out of their villages for work, often travelling as far as India in search of a means to make a living. This means women, children and the elderly are being left behind in communities that are unable to thrive without water.
A solar-powered solution
We have a tried-and-tested solution to provide hilltop communities with the water they need to thrive. We install solar-powered water lifting systems that pump water up to the community and distribute it to individual tap stands. And we promote climate-smart agriculture, to empower community members grow a variety of crops and increase family incomes.
Since 2012, we have installed 36 solar water lifting systems, transforming water access and income generating opportunities for over 19,000 people. But there are still many more hard-to-reach communities that urgently need access to safe water.
We are hoping to raise £60,000 through our Water for Life appeal, to help a further 5,000 people in 10 villages in Nepal gain access to safe water using clean energy. Can you help us?
Our Water for Life appeal is part of the Big Give Christmas Challenge, the UK's biggest match funding campaign. The appeal runs for just seven days, from midday on 29 November until midday on 6 December 2022. All donations made through the Big Give website during this seven-day period will be doubled (until we hit our £60,000 target). This means that your donation to our Water for Life appeal can achieve twice the impact.
---
Countdown until the Big Give Christmas Challenge closes!
The Big Give Christmas Challenge, and the opportunity to double your donation to our Water for Life appeal, will close in:
[wpcdt-countdown id="14376″]
---
What is the Christmas Challenge and where does the match funding come from?
The Big Give Christmas Challenge is the UK's biggest online match funding campaign. For seven days, it offers individual supporters of participating charities the opportunity to have their donation doubled on theBigGive.org.uk.

We have already secured a £30,000 pot of match funding, through pledges from The Reed Foundation and one of our supporters, but we need your help to unlock it!
With each donation made via theBigGive.org.uk during the week of the campaign (29 November – 6 December 2022), a donation of an equal amount will be released from our match funding pot.
This means that we need to raise online donations totalling £30,000 to unlock the full £30,000 in our match funding pot. If we succeed, we'll achieve our target of raising £60,000 to provide the energy and water that 10 of Nepal's remote hilltop communities need to thrive.
Can you help us unlock the match funding?
Hermina Bam Pandey lives in the hilltop village of Jabden Baktadi with her family of six. Her day-to-day life used to be dominated by the arduous task of collecting water from a distant source.
"We used to walk for more than two hours to collect water and we weren't allowed to take more than 35 litres of water home. There was a limited supply of water at the source, so the village set this cap to ensure that everyone could at least take a little water home. The water we carried like that was so precious. It was hardly enough for us to drink. We couldn't even think about using that water for irrigation or sanitation."
Hermina is now one of the lucky ones. A solar water lifting system was installed in her village in 2021, which means she can access water on demand from a tap stand outside her house. This gives her a plentiful supply of water for drinking, irrigating her kitchen garden and looking after her livestock.
With easy access to water, Hermina now has the time and resources to focus on income generating activities that are helping her family to thrive. "There was a time when I had lost hope and couldn't see any alternative for me, but now everything has changed for me and my family."
---
Why Water for Life?
Water is the key to life. It is an essential building block for health and allows people to grow crops, rear livestock and build businesses. With water, even the poorest communities can thrive.
By supporting our Water for Life appeal, you will be helping us harness the power of renewable energy to help 5,000 people in 10 hilltop villages in Nepal gain access to safe water.
In each village we will:
1. Conserve and protect the water source
While lifting water to hilltop communities is essential, this only tells half the story. Before a system is installed, a water protection and conservation plan is developed, which helps ensure the sustainability of the solar water lifting systems. We build understanding among communities of how to conserve water more generally, and we ensure that future development will not interrupt the flow of water.
2. Improve water access using solar-powered water pumping technology
These systems are known as Solar Multi-Use Systems (SolarMUS – pronounced 'solar moose'). They use energy from the sun to pump water from a distant source to storage tanks strategically placed above a community. These tanks store a large amount of water, usually up to three days' worth, which ensures a reliable supply of water year-round. Once in the storage tanks, the system cleverly lets gravity do the rest, piping water back downhill to tap stands outside each home and within easy reach of fields, and to schools, clinics and other institutions in the community. The result is that with the simple turn of a tap, water is distributed to households, farms, and businesses on-demand. It is called a Multi-Use System (MUS) because the water can be used for many purposes such as drinking, cooking, sanitation, irrigation, and more. These systems can pump up to up to 79,000 litres of water a day over 200 vertical metres .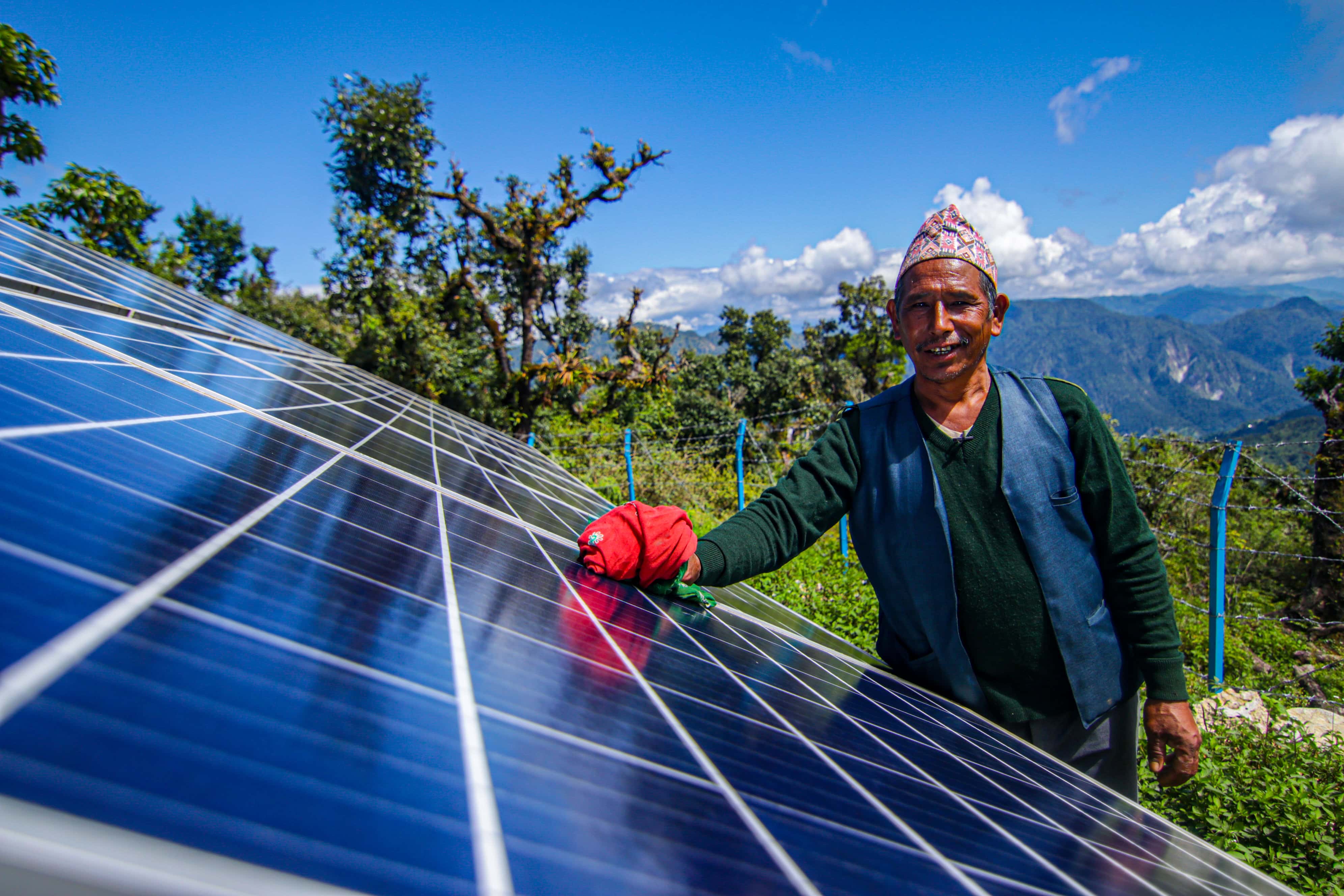 3. Promote climate-smart farming
With easy access to water, year-round agriculture becomes possible. And with it, the opportunity to increase family incomes. We will provide training on climate-smart agricultural practices, such as drip-irrigation, plastic tunnels, kitchen gardens, integrated pest management. Training will also encourage the cultivation of both nutritious (to improve diets) and high-value crops (for sale at market). This will expand the range of locally grown food and strengthen farming-based livelihoods.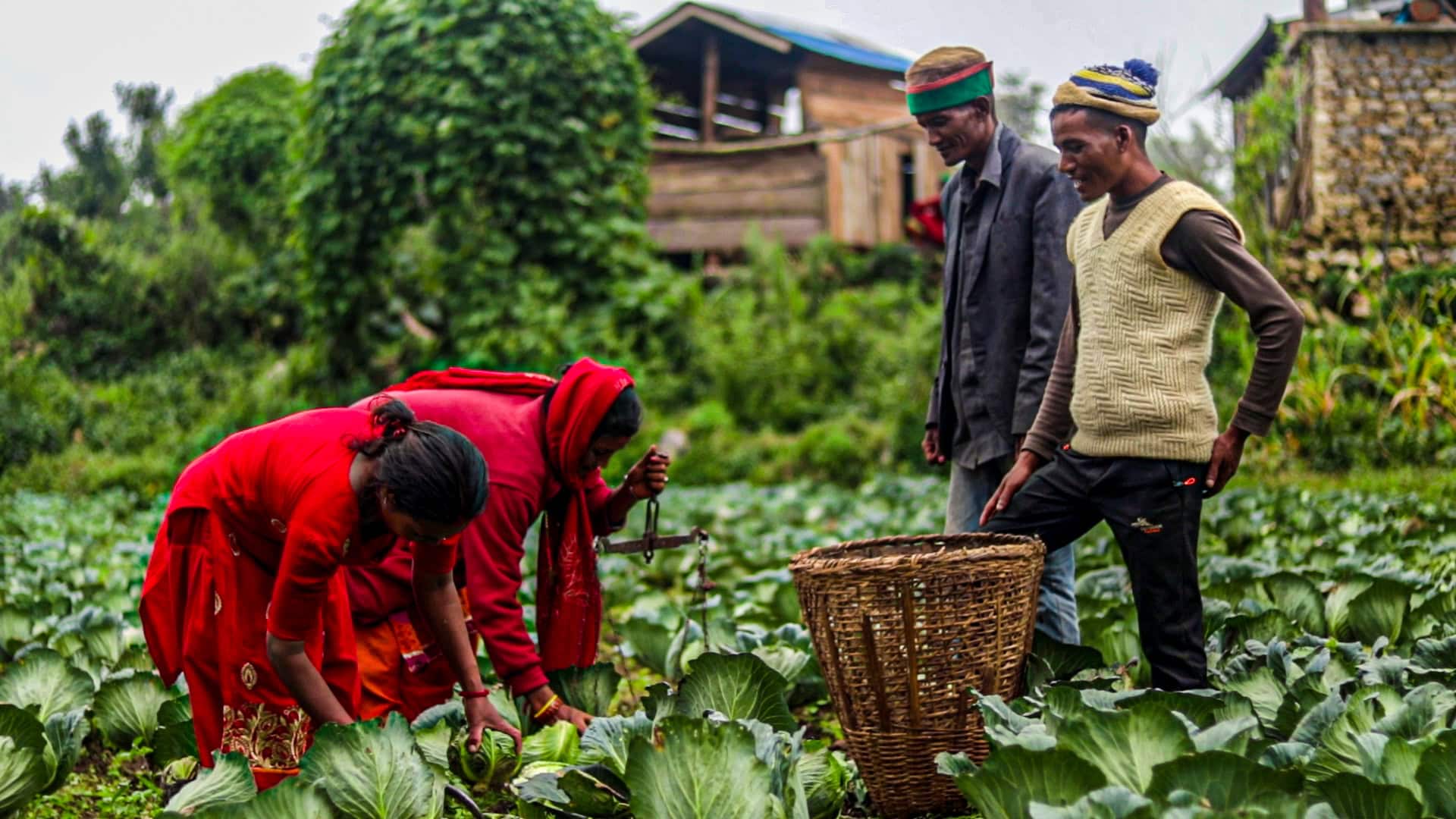 ---
Double your donation today
You can donate to our Water for Life appeal from midday (GMT) on Tuesday 29 November until midday (GMT) on Tuesday 6 December 2022. Remember, only donations made via our Big Give campaign page will be eligible for the match funding.
Eight-year-old Manisha Budha lives in Jaben Bhaktadi, one of the communities we recently supported to install a solar water lifting system.
Before the system was installed, she used to spend hours each morning and evening helping her family collect water. "I used to spend most of my morning and evening hours, before and after school, fetching water from a source that was two hours away from my home. I hardly got any time to complete my homework or play with my friends."
Since the installation of the solar water lifting system, Manisha's life and daily routine has been transformed. Her family can now access the water they need from a tap stand located right outside their house. Manisha no longer has to spend several hours each day carrying water, which in turn means she now has plenty of time to do her homework and play with her friends. Manisha was beaming when she told our project team that she was so happy that her life had suddenly gotten so much easier!