Meet Hum Kamari Thapa
Hum Kamari Thapa is a housewife and farmer living and working in Magare village, she is 34 years-old and lives with her husband, two daughters and her mother-in-law. She is from a farmer family and a major source of income is through selling off livestock.
They own 2 hal of irrigable lowland and 1 hal of un-irrigable upland and can therefore only grow subsistence crops. The lowland field has access to an irrigation canal, but it lies an hour away from the house and the upland fields which are near to the house do not have access to irrigation so Hum Kumari is not able to grow any cash crops, therefore her family is dependent on selling livestock. When the project started she owned 1 pig, 5 goats, 2 buffalo and 7 chickens. She told us her income only provided her with the means to buy only a few essential items for the house.
A Day in the Life of Hum Kamari
Her day begins at 5am and she doesn't get to sit down with her family until after 8 at night, she is busy all day with house work and labouring in the field. Like everyone else in the community Hum Kamari doesn't have access to tap water yet she requires at least 150 litres per day and is the main person responsible for fetching water. Her family needs up to 90 litres in the morning to cook, clean, drink and for livestock and then an additional 60 litres in the evening. When she is too busy with housework she has to send her children to collect water, something she feels very bad about but unfortunately, she doesn't have a choice.
It takes Hum Kamari 30 minutes to walk to the water source and come back with water, yet it only takes her husband 15 minutes. When she sends her children, their journey is only 20 minutes, but their buckets are much smaller meaning they bring back much less. In total her family spend up to 3 hours every day on fetching water alone.
When we asked Hum Kamari if access to clean water would help, she told us that if she could easily get water for drinking, cleaning, sanitation and irrigation it would change her and her family's life. There have been times when she has been unable to get her children ready for school on time and is having to sacrifice spending quality time with her children and her family's hygiene is compromised. She has studied up to grade 7 so Hum Kamari could help her children with their Maths and Nepali homework but doesn't have enough time to dedicate to them.
Despite having land her family is not making any income from their fields and even during monsoon season when the land has access to water she cannot give enough time in the field to grow vegetables, she feels as if her days are spend doing non-productive work. However with the installation of a solar powered water pumping system Hum Kamari said she is very hopeful that the project can support her to engage in vegetables farming by providing agricultural training and access to irrigation water. She told us she wanted to dedicate some of her spare time to start commercial vegetable farming, and now that her husband is back she has full support at home to do this work.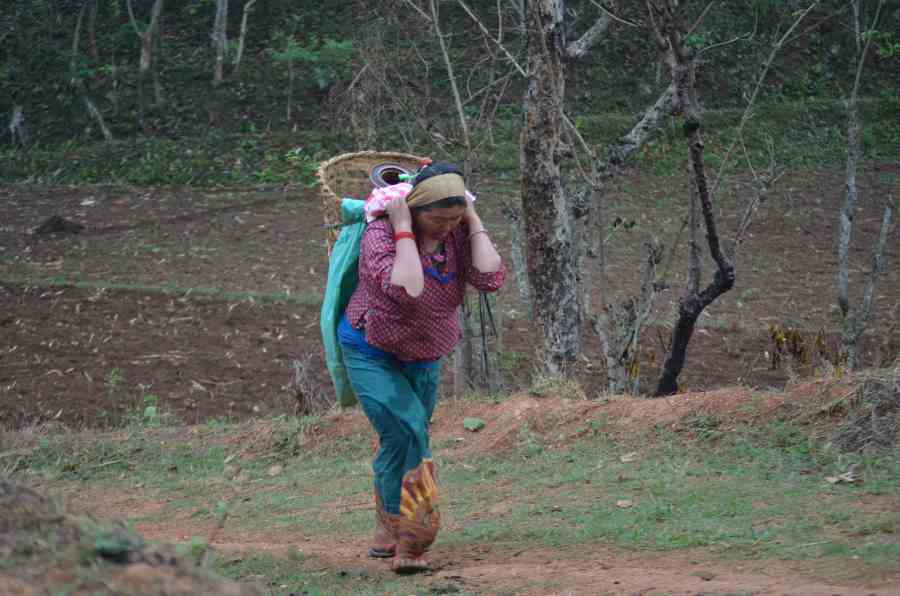 "I am a subsistence farmer, I lack knowledge on vegetable farming. If I were to have access to water I would use all my time and effort to start vegetable farming. To be able to earn an income and support my family is the biggest thing for me, I am not educated so I have no hope of earning money by taking up job/ other employment. I have land, if I have training and access to water I can turn barren land into a farm and earn money. If each household was able to produce vegetable the market will come to us. I would not want anything more"
Find out more about our solar water pumping technology and the work we do in Magare and Nepal