Energy for clean cooking
Renewable World's Community Owned Biogas for Livelihood Enhancement Project (COBLE) installs large scale biogas digesters in communities to combat the use of polluting and hazardous solid fules. These convert animal dung into clean, safe biogas, providing fuel for cooking and lighting. They have vastly improved the health and well-being of community members.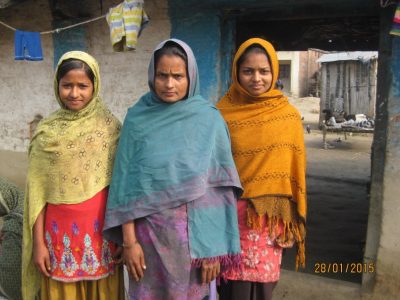 One such community is Udrapur, home of Tabibun Behana Nisa. In order to cook, Tabibun has to send her daughters out into a forest across the Indian border to gather firewood. Every time they go she is terrified, and for good reason: the border crossing is illegal, and if caught by the Indian police violent punishments can follow.
The firewood, which the girls risk so much to get, saps their health as they cook with it. Cooking for at least four hours every day in a smoke filled room causes them to suffer from frequent eye and chest infections.
For Tabibun and her family, the biogas digester will mean freedom from fear and squalor, and new opportunities:
"My daughters will not have to risk their safety going to the jungle to collect firewood. Cooking with biogas will save time they would have spent collecting firewood, and they can use that time to go to school and not miss class. The smoke currently hurts our eyes and my daughters cough a lot, with the new gas we will be able to feel more healthy and have clean air in our home."
The slurry from the biogas plan will also allow Tabibun and her daughters to grow high value vegetables which will improve their diet and bring in some additional income.
Read more about our biogas technology here.