Bringing solar power to Kenyan fishing communities
Renewable World's Comic Relief funded RESOLVE (Renewable Energy Systems for Lake Victoria Ecosystems) project gives people in communities on the shores of Lake Victoria in Kenya an opportunity to improve their livelihoods using electricity generated through solar energy hubs.
This year we have completed the installation of hubs in six communities, where they have given businesses a chance to boost their income and entrepreneurs the opportunity to establish new income generating opportunities. Fishermen will use the energy to freeze and store fish, farmers pump water to their fields, and husband and wife Kenneth Osiko and Mary Atieno have brought light to their café in the village of Luanda Rombo.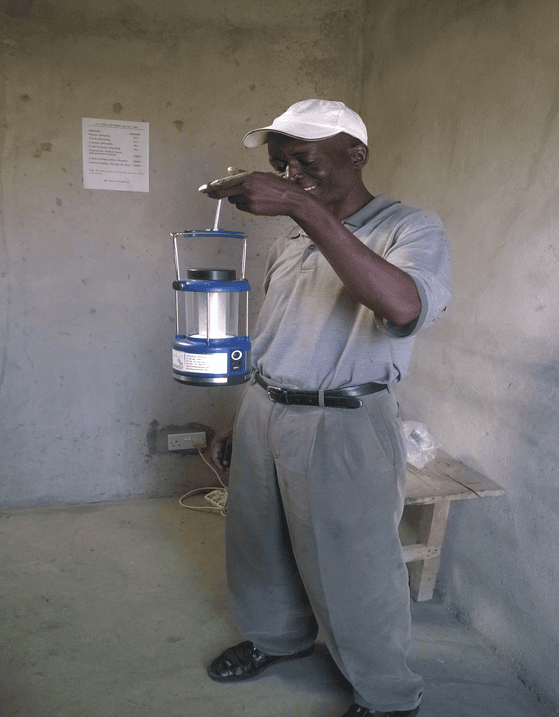 Their café caters to fishermen who like to relax, watch TV and have a drink in the evening before heading off to fish. Before the solar hub was installed, Kenneth and Mary had to close their café when it got dark as they couldn't afford enough kerosene to power lamps late into the night. Business was poor, and they struggled to bring in enough income to feed their three children. Kenneth also worried about the fumes from the kerosene lamps and the impact it was having on his family's health.
Now, using solar power bought from the energy hub, they can remain open in the evenings, their rooms brightly lit and a new TV on the wall. They have noticed a marked increase in customers and have found that people are glad to stay longer at the café, drawn in by the lights, TV and cold drinks.
Since the instillation of the energy hub life and business have significantly improved.
"Using power from the energy hub we can remain open in the evenings, our rooms are bright and we have bought a TV. We spend less money on energy and no longer need to rely on kerosene for lighting. Business has improved and we have more customers who stay longer as they enjoy the TV and cold drinks".
Kenneth and Mary now have a new baby son, Alex. Thanks to their newfound prosperity, they can feel happy and confident that he will not go hungry.